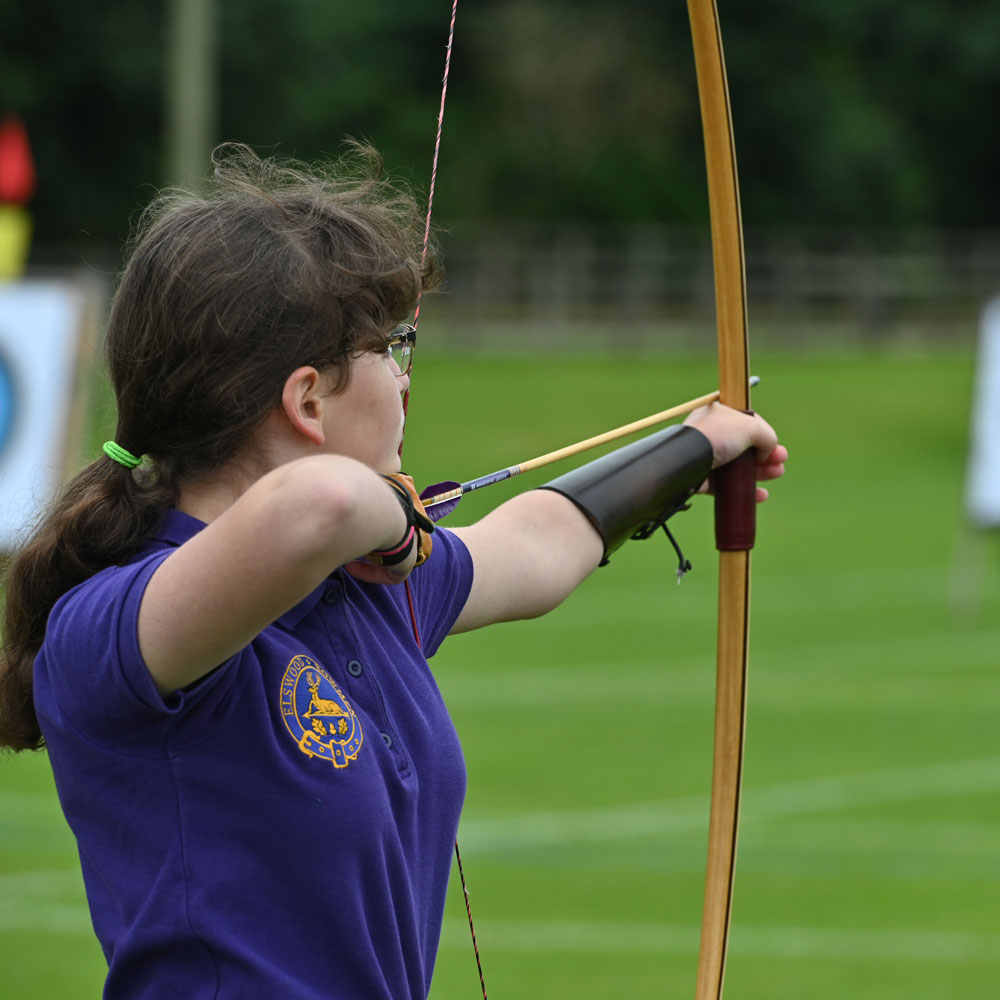 Traditional English Longbow shooting is the foundation of all competitive target shooting. Whilst equipment, fashions and world engagement have changed competition archery to the modern format, shooting with the English Longbow still has many keen adherents and numbers continue to grow.
The highlight of the Archery England longbow year is currently The English Longbow Championships held normally in July. It is hosted by Sherwood Archers at their club ground near Southwell, Nottinghamshire.
The English Longbow Championships is the only national tournament for Longbow target archers in the country and the winners become the Master (over 50), Senior and Junior Longbow Champions of All England. The Championships are open to all Longbow Archers of all abilities, so don't feel you have to be 'up there' to compete or gain entry. The 2021 details and entry forms are available to download at the bottom of the page and also on the Sherwood Archers web site. Ladies shoot a Hereford round whilst Gents shoot a York and in accordance with AGB, both are one way.
Ultimately the Archery England aim is to challenge other nations, Home and International, to Longbow tournaments across the UK, Europe and maybe even further afield. Selecting and sending teams to compete wearing Archery England shirts. Initially selection will be on performance at the English Longbow Champs and availability, but as the international longbow calendar grows then a more developed selection criteria may be developed.
Keep in touch with this page for an exciting future and the development of  international longbow competitions.
Archery England English & Open Senior Longbow Championships
Hosted by Sherwood Archers Lower Kirklington Road, Southwell On 9th July 2022
Round:                                    UK Rose Award Record Status – One Way York/Hereford
Lord Paramount:                  George Brown – Sherwood Archers President
Judge:                                    Mario Stankovic, Andy Kay
Tournament Organiser:       George Brown, 19 Delamere Drive, Mansfield, Notts. NG18 4DE.  Tel: 01623 633593
                                                                                                                                                                       Score  Hits Golds
Lady Champion                             Carrie Mortimore                    Sherwood Archers                           602      122      11
Gentleman Champion                  Cliff Gadd                                AGB Direct                                         557      109      17
Lady Master Champion                Sharon Lawrence                  Noak Hill Archers                             430      96         8
Gentleman Master Champion     Dale Message                       Assheton Bowmen                           458      102       8
Ladies Open Champion                Melanie Fretwell                   Anchor Bowmen                               466      102       9
Gentleman Open Champion        Hamish Freeman                  Assheton Bowmen                           448       92      10
Best Gold – Lady                           Ann Nason-Smith                 1066 Archery Club 
Best Gold – Gentleman               Stewart Atkinson                   Chantry Bowmen
Longbow Championship 2022 Entry Form