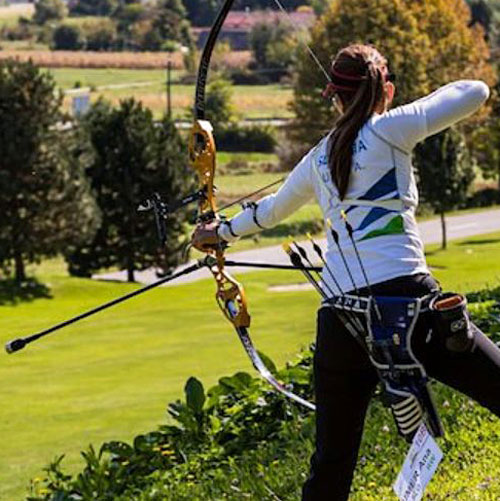 This section is dedicated to Field Archery.
Sussex County Archery launched field awards in 2016. These are open to any archers and include more bowstyles than the Arrowhead awards.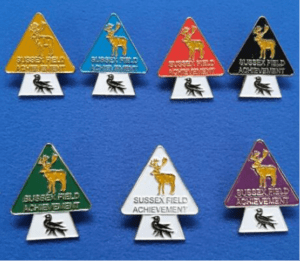 The award is a metal arrow shaped pin badge with a Sussex martlett and a stag to indicate field archery.  They are available for WA field rounds (not including 3D or junior archers as yet).  The cost of these is  £4.75 per badge plus £1.75 postage for up to 10 badges.  There is a cost reduction for archers affiliated to Sussex.
The awards are green, white, black, blue, red, gold and purple.  The higher awards of gold and purple are challenging –  purple has been awarded to Jason Meehan and Gary Cole.  There is no problem going back in time – you shot the score, you can have the award.
The scores required are for one day of marked, unmarked or mixed rounds to Archery GB rules.  It is for one open score or 3 club scores/winter league scores.  Please supply proof of score via scan of scoresheets or link to results.
A thank you to James Annall for his help in developing the scores needed for these awards.
The scores needed are explained in the attached PDF (view).
To apply, please send cheque payable to Sussex County Archery Association to: –
196 Bannings Vale,
Saltdean,
Brighton,
BN2 8DJ
with details to send awards to, bowstyle, and scores.
Or email : – calendar@brightonbowmen.org.uk
RESULTS OF THE ENGLISH 3D FIELD TOURNAMENT HELD IN KENDAL 
Congratulations to our new champions for 2021: 
Gent Compound Ul: Simon Holmes 
Ladies Instinctive: Sarah Monteith 
Gents Instinctive: Jed Cullen 
Ladies Barebow: Sarah Hake 
Gents Barebow: Glenn Pringle 
Click here for full results (view)